Ladies and gentlemen, brace yourselves, for the Rugby World Cup is upon us once again, and it's promising to be a rip-roaring spectacle of tackles, tries, and tea. Yes, you heard me right, tea! And not just any tea, but Barry's Gold Blend Tea, the elixir of choice for discerning rugby enthusiasts in Switzerland and beyond.
As we raise our cups in a hearty "Sláinte" to the Irish Rugby team embarking on their gallant journey to conquer the Rugby World Cup in France, let's not underestimate the power of a good brew to enhance the rugby experience for the TV spectator.
First things first, let's send our warmest regards and Bon Courage to the brave men in green who will be charging into battle on the rugby fields of France over the next seven weeks. The Rugby World Cup is a test of skill, strategy, and sheer grit, and we're all standing shoulder to shoulder with the Irish team, ready to cheer them on through every scrum and maul.
Now, back to that essential cuppa. Picture this: You're gathered with fellow rugby aficionados, eyes glued to the screen, heart rates elevating with each pass and tackle. The excitement is palpable, and the air is charged with anticipation. But in the midst of all this rugby fervour, how does one find a moment of respite, a serene intermission between the tackles?
Enter Barry's Gold Blend Tea, the ultimate companion for rugby enthusiasts. This isn't just any tea; it's a symphony of flavour and tradition. The rich, robust notes of Barry's Gold Blend Tea create a pause in the rugby madness, offering a moment of calm and reflection, like a well-executed drop goal in the dying moments of the game.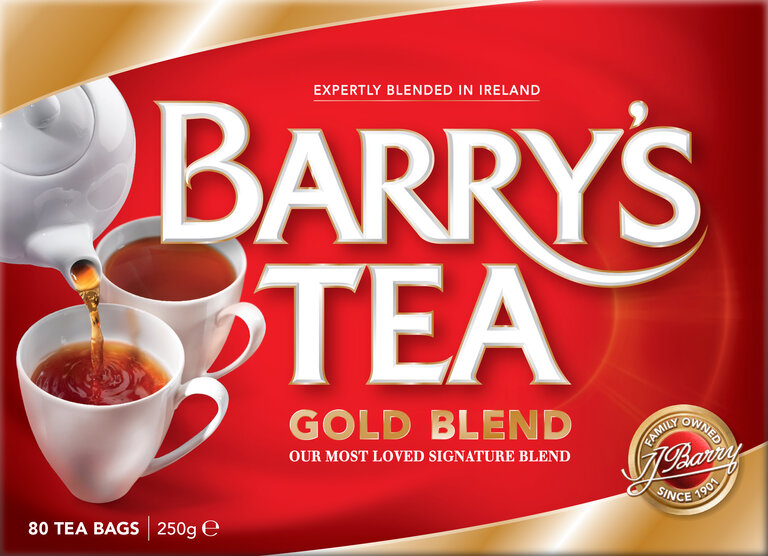 With a cup of Barry's Gold Blend Tea in hand, you can take a breather between matches, dissect the finer points of the game with fellow supporters, and re-energize for the next crucial game. It's the ideal way to infuse a touch of Irish charm into your rugby-watching ritual.
And the best part? You don't need to embark on a pilgrimage to the Emerald Isle to get your hands on this rugby-approved tea. Simply visit Pash.ch, the e-commerce store that brings Irish culinary treasures to Switzerland, and stock up on Barry's Gold Blend Tea to fuel your Rugby World Cup adventures.
Rugby is a sport that inspires poetry in motion, and what better way to celebrate it than with a cup of tea that's as poetic as a well-executed try?
So, to the Irish Rugby team and rugby supporters across Switzerland, here's to a Rugby World Cup filled with memorable moments, thrilling matches, and the comforting embrace of Barry's Gold Blend Tea. Let the games begin, and may the tea be forever flowing! Cheers!
Shop now- Barry's Gold Blend Tea 80's
#PashCH #irishinswitzerland #irishfoodsinswitzerland #irishfood #irishfoodie #irishpeoplelivingabroad #RWC2023 #RWC #RugbyWorldCup #irfu #IrishRugby #BarrysGoldBlendTea #RugbySupporters #RugbyFever #RugbyLife #RugbyEnthusiasts #TeaTime #RugbyWatching #RugbyPassion #WorldCupRugby #RugbySpirit #RugbyCharm #IrishCulinaryTreasures #RugbyCheers #RugbyMatch #RugbyExcitement #TeaLovers #RugbyTradition #Sláinte #TeamSpirit #GameDay #RugbyMania #RugbyExperience